Posted in:
By Jheanelle Chambers, Intern
Temple University professor and National Federation of Independent Business economist Bill Dunkelberg writes in a recent Philadelphia Inquirer column that health care coverage should be more like auto insurance, covering catastrophic illnesses only — and not routine preventive care:
For me, what we call "health-care insurance" should be more like car or home insurance. Health plans should cover catastrophic illness, but not preventive care.

When you change the oil in your car, does your car insurance cover that? New tires? A battery? That's maintenance.

But if you have a serious accident, that is "catastrophic," involving potentially large and uncertain costs, and insurance covers that.
The problem with this approach is people are not cars. Regular medical check-ups maintain good health, and if a person waits until a minor illness turns serious, the cost of treatment is much greater. There is also strong evidence that preventative care increases both the quality and the length of people's lives.
Health economist Austin Frakt explains further at The Incidental Economist:
There are a variety of reasons why insurers might want to provide coverage for routine care. Many boil down to the fact that it might be cost effective to do so if encouraging policyholders to consume such care offsets a greater amount of more expensive care in the future. Certain types of coverage may also serve to attract certain types of (cheaper) consumers.

But there are other reasons, pertaining to why consumers might want coverage for routine health care use. First, if it's through an employer, the consumer benefits from the employer-sponsored health insurance tax subsidy. That makes covered care cheaper than it would be if consumers paid for it with after-tax dollars on their own.
Frakt notes that in recent years an increasing number of people have been enrolling in high-deductible health plans. Federal law allows people enrolled in these types of plans to make tax-exempt contributions to health savings accounts (HSAs) that can be used to pay for qualified medical expenses.
HSAs have also been touted as a way to reduce health care spending — the idea being that if the money is coming out of your pocket, you won't spend as much. That may be true for many consumers (mostly in good health), but a small group of very sick people account for a much bigger share of total health care costs, as this chart from Aaron Carroll shows: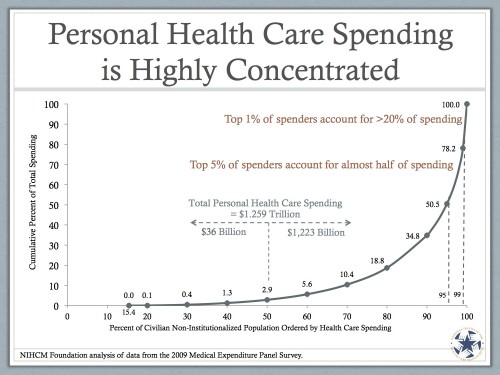 Carroll writes:
Why is this important? Well, because the entire idea of health savings accounts and increased cost sharing is to encourage people to spend less on personal health spending. The idea is that people who don't really need the care will choose to spend less. What we often ignore, however, are the high spenders. Those people, on the right side, would blow through their health savings account pretty quickly. At that point, they have no more deductibles and no more co-pays, and there are no more incentives to spend less.
Bottom line: beware of claims of health care cost savings that fail to address the biggest cost-drivers.
Jheanelle Chambers served as a 2012 intern with the Pennsylvania Budget and Policy Center.